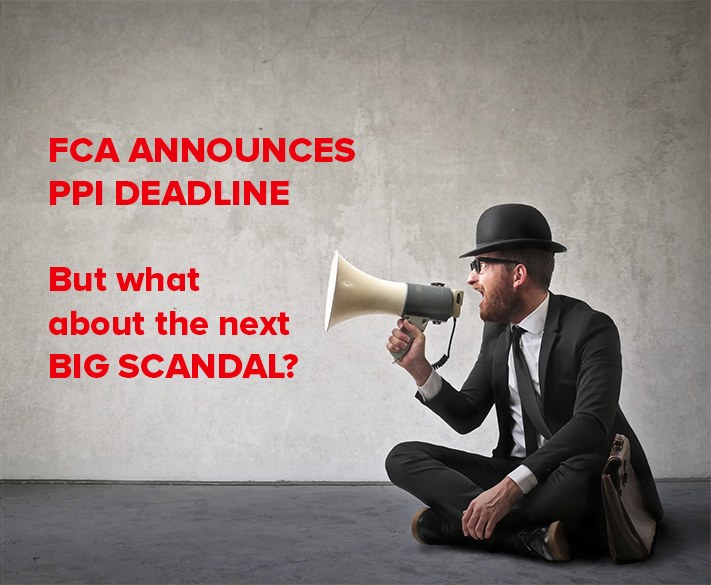 Categories: Claims Advice Finance News Investments Pensions SIPP Claims
---
Job Title: Business Development Director
For more information about me please click here.
The authorities are gearing up to put an end to PPI, but is an even worse scandal lurking around the corner?
The Financial Conduct Authority has publicly announced on their website that they are drawing a line under the PPI scandal, by creating a deadline for which claims should be made by those who may have been mis-sold PPI.
The deadline means that consumers who think they may have been mis-sold their Payment Protection Insurance now have until 29 August 2019 to investigate and make their complaint, either directly or through a claims management company.
The Great British PPI Scandal
You'd pretty much have to have been living as an off-grid hermit not to have had at least one unsolicited call regarding PPI over the last few years, but if you've never looked into it, your time could now be running out to claim, with the average PPI compensation claim coming out at £2750. But PPI claims are NOT something the team at Spencer Churchill Claims Advice deals with – we're concerning about something that presents a far bigger danger…
The Next BIG Mis-selling Scandal
While the FCA is now going to be running a 2 year awareness campaign to begin in August 2017, the team at Spencer Churchill Claims Advice is gearing up for something completely different, and arguably so much more important: the growing mis-sold pension scandal.
While PPI has dominated the headlines, it is the far bigger problem of pension and investment mis-selling that arguably presents the greater danger, and is therefore the focal point of the dedicated team at Spencer Churchill Claims Advice, who work hard to win back our client's pensions every day.
How pension mis-selling happens
Back in Jan 2017, the FCA published a notice to pension scheme operators, warning them about the increasingly level of sophistication of what it described as First, Second and now Third Generation pension scams.
It's something we see here at Spencer Churchill Claims Advice every day, and while every claim is unique, they often go a little like this:
+ A cold call is received by the client, inviting them to do a "pension review"
+ The caller promises much higher returns by transferring that pension into a SIPP or SSAS scheme, with investments that look the business and promise a lot.
+ These investments, such as forestry schemes, overseas property, storage pods and other alternative-sounding products seem to offer great returns, but they are HIGH RISK – often not regulated      by the FCA, leaving no compensation if they get into trouble
+ The client is often mis-informed of this risk, and doesn't fit the criteria for investing in these products because they don't earn over £100k per year, or have enough investment experience.
In some cases, people's entire pension savings have been liquidated when these high-risk investments get into difficulties, leaving their retirement looking bleak.
It's then that our team jumps into action, investigating the potentially negligent advice provided by an adviser, and building a specialist claim on our client's behalf to win back their pension.
As of Feb 2017, we've recovered £Millions** on behalf of our clients for mis-sold pensions alone, but we know that we've barely scratched the surface of the pension mis-selling scandal.
Not only have thousands been mis-sold in this way, or in similar variations, but as the FCA warning shows, these scams are becoming more and more sophisticated, and are still happening today!
Awareness campaign
While the FCA seems to be gearing up for a PPI campaign, we're trying to get the message out about the dangers of a mis-sold pension!

You can help by sharing this article with friends and family who could be a risk (The FCA believes those most likely to be targeted are in their 50s), letting them know what to look out for, or make them aware of their position if they've already transferred.

Together, we can END the next big pension scandal.

____________

Worried about what you've just read about pensions?

Try not to panic – Spencer Churchill Claims Advice are a leading CMC that specialises in just these sorts of cases, so if the type of scam we've
just described sound worryingly familiar, feel free to get in touch for your FREE initial assessment
of your pension advice.

We can analyse the position you've been put in, and if it looks unsuitable for you or you have
lost money, we can look at pursuing a claim on your behalf to
Win Back Your Pension,
All on a No Win – No Fee* basis

**Figure correct on dating of article. Calculated before deduction of fees charged at 24% Inclusive of VAT

Tags: FCA Pension Mis-selling PPI Deadline Scandal
---
---