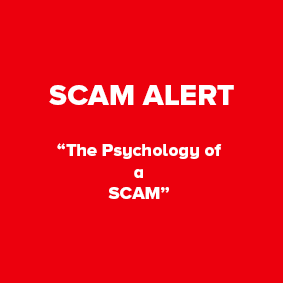 Categories: Claims Advice Finance News Investments
---
Job Title: Senior Case Manager
For more information about me please click here.
A warning straight from the FCA has explored the techniques used by scammers to get your money and turn it grubby.
The Financial Conduct Authority has warned of the pressuring psychological techniques used by investment fraudsters in their efforts to target the over 55's, who they believe have the most available capital to invest.
Perhaps just as worryingly, a survey conducted with ScamSmart showed that only around 42% of the over 55's in the survey felt confident that they could spot the common warning signs of a scam, with 53% believing that acting quickly on the offer of an investment could be the key to getting a good deal!
So what are the signs and techniques the FCA identified?
Signs of an investment scam
"Limited time only!" High pressure – one of the most common psychological tactics used was to imply that delaying the investment could result in the target losing out on some healthy looking returns. A variation on the classic 'snake-oil' salesman tactic of "a ONE TIME OFFER!". Sadly, the thought that acting quickly on these deals gets you the better deals plays straight into the scammer's hands on this one, leaving the client less time to think about it, get independent financial advice or simply sleep on it long enough to think twice.
'Pie in the sky…' BIG returns – Another popular tactic is to inflate those projected returns on investment, making it seem like the investment is bound to make the client a fortune, while ensuring that the risk involved is downplayed. Even if the investment is real, high projected returns are often a feature of unregulated investments, which by their very definition are HIGH RISK investments, but the scammers don't tend to focus on that point, or omit the risk completely, or even just lie about it.
"A smart investor like you…" – flattery – It seems that some scammers think flattery will get them everywhere, and sadly it seems to work. Psychologically speaking, telling the 'target' that they seem intelligent and a knowledgeable investor gives them the confidence to go ahead with the deal.
"We're beating other clients off with a stick" – Social Proof – making the investment sound ever so popular to those 'in the know' helps build trust and make the 'target' feel like they're missing out if they don't say 'yes' straight away!
So what can you do about investment scammers?
Well for one thing, if you are in your 50's, watch out for these signs in unsolicited calls about investments:
Check the FCA register to see if the caller is regulated by the FCA – if not, could be a scam!
Seek independent and impartial financial advice before making a decision
Don't forget, even if you AREN'T in the target age-group for scammers, you could still be called, and if you know somebody who is, maybe share this article with them to let them know of the risks!

____

Spencer Churchill Claims Advice is a leading CMC specialising in mis-sold pensions and investments

Tags: FCA Psychology Of A Scam Scam Targeted Over 55s Warning
---
---